Munich Ophthalmology Practice
Prof. Dr. Marcus Kernt

---
After completing his medical degree at the Ludwig Maximilian University of Munich (LMU), Prof. Dr. med. habil. Marcus Kernt completed his five years of specialist training in ophthalmology working under Prof. Anselm Kampik at the LMU Eye Hospital. Here, he qualified as a professor and was conferred a licence to teach in the specialist field of ophthalmology. In addition to his specialist areas of interest in refractive surgery and retinal diseases, Prof. Kernt has broad expertise in all different fields of ophthalmology.
Over his many years working as a specialist at the LMU Eye Hospital, which included managing consultations for diabetic eye diseases, age-related macular degeneration, and cataracts and refractive surgery, he also often travelled abroad to pursue research and further specialisation, broadening his extensive practical knowledge and advanced scientific expertise in these fields.
Furthermore, Prof. Kernt trained internationally in vitreoretinal surgery and retinology, as well in oculoplastic and lid surgery: he spent this time in London training alongside leading specialists in the field, such as Prof. Alan Bird, Prof. Zdenek J. Gregor and Prof. Richard Collin at Moorefields Eye Hospital.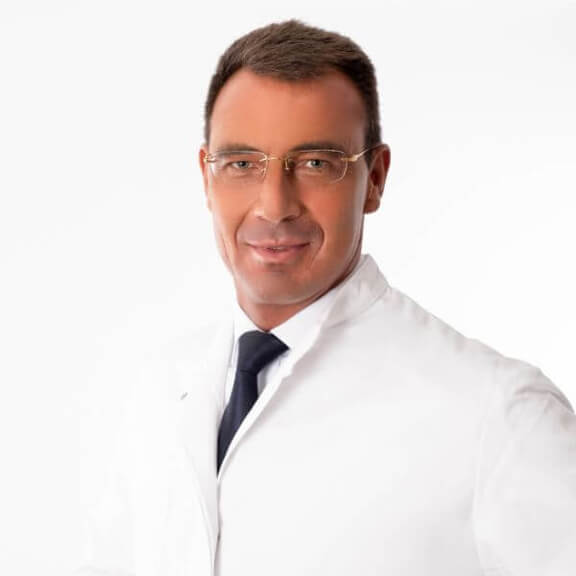 In 2015, Prof. Kernt was called up to the University of Oxford where he became a permanent member of the teaching faculty and regular university professor for ophthalmology and healthcare management, in addition to his role working as an independent ophthalmologist in Munich and Gruenwald. In this context, Prof. Dr. Kernt was in a position to collaborate broadly with many different English institutions in his work. From 2003 to 2004, Prof. Kernt worked at the Lariboisiere Hospital in Paris, whilst also spending 2013 working in Bangalore, India, at the Narayana Eye Hospital in the field of vitreous surgery.
As a senior specialist, Prof. Kernt spent many years working in a management role in Munich running specialist consultations for patients suffering from age-related macular degeneration and diabetic eye diseases, helping countless patients to return to improved eyesight.
In the field of refractive surgery, he acted as the lead consultant for ophthalmology along with colleagues from the Refractive Treatment Centre (Centrum für Refraktive Therapie; 'CRT') at the LMU, allowing him to further develop his already advanced knowledge in this field. In 2011, Prof. Kernt was conferred the title of Professor of Ophthalmology by the Ludwig Maximilian University of Munich. In his research work, Prof. Kernt has particularly focused on the development of new treatment approaches for glaucoma and vascular retinal diseases, ophthalmological infectiology, ophthalmological imaging and diagnosis, as well as research in cellular biology. As an author of numerous scientific works and speaker at various national and international congresses, Prof. Kernt has been the recipient of several prestigious awards, honours and sponsorships. In 2015, he advanced from senior specialist to full professor of ophthalmology and health care management at the highly renowned Oxford University. In Germany, he was also awarded the Theodor Axenfeld Prize for his outstanding contributions to science. In addition to working as a professor at the prestigious Oxford University, he has primarily been working as an ophthalmologist at the Gruenwald and Munich-Fuerstenried Practice (founded in 2014), as well as now working at the Munich Maximilianstraße Clinic.
Here you will find an overview of our ophthalmological services in Munich:
Treatment
Corneal Laser Treatment (Refractive Corneal Laser Surgery)
Femto LASIK
PRK (Photo-Refractive Keratectomy)
Glaucoma treatment
SLT (Selective Laser Trabeculoplasty)
Cataracts treatment
Monofocal Intraocular Lenses
Premium Intraocular Lenses
Aspherical Intraocular Lenses
Toric Intraocular Lenses
Multifocal Intraocular Lenses
Pseudo-accommodative Intraocular Lenses
"Yellow" Blue-Light-Filter Lenses
Post-Cataract Treatments
Refractive Lens Surgery
Retina Laser Treatment
Navigated Retina Laser Treatment (NAVILAS®)
IVOM (drug administration into the vitreous body of the eye)
Vitreous Surgery
Diagnostic tests:
3D-cataract analysis
Pachymetry (measurement of corneal thickness)
Anterior Chamber Analysis
Optical biometry of the eye
Coherence Tomography (OCT)
Retinal examination using OPTOMAP®
Fluorescence angiography
Autofluorescence
Fundus imaging
Our Ophthalmology Practice in Munich

---

Our vision is fundamental to maintaining a good quality of life as we take in over 80% of our environment through our eyes. Whether it is in our everyday lives, or in our professional pursuits, good vision is vitally important to our day-to-day existence. In order to maintain your vision or to improve it, our private Ophthalmology Practice of Prof. Marcus Kernt & Colleagues can offer you state-of-the-art diagnostic and treatment approaches with the highest levels of professionalism.
Improving & Maintaining Your Vision - Our Mission

---
In our Private Ophthalmology Practice in Munich, we offer our patients a comprehensive spectrum of ophthalmology treatments. We employ state-of-the-art approaches to diagnosis and treatment to achieve the best possible results for each individual. Explore our website to find out more about our private Ophthalmology Practice and the services we offer. We would also be delighted to assist you in person - we look forward to your visit!
Thanks to state-of-the-art therapies and the highest medical standards, coupled with the countless years of experience and highest standards of professional competence of Prof. Kernt and his colleagues, our patients can be confident that they are in the best of hands. Cutting-edge technical equipment at our Practice allows us to offer you the same standards of care as are offered at an Eye Hospital. In order to achieve the very best results, we believe that individualised consultations and adapted treatments are essential.
Our private Ophthalmology Practice is located in the heart of Munich. It is easy to reach us by public transport. Transport by car is another simple option with several car parks located near to our Practice.
Your Ophthalmologist
Prof. Dr. Marcus Kernt
Research and Science Form the Basis of Medical Progress
Through his extensive research activities over many years, Prof. Dr. Kernt has acquired the highest standards of professional competence. Working as a professor at the Ludwig Maximilian University of Munich, he has been passing on his extensive knowledge as a specialist; he also speaks at numerous congresses and collaborates with scientific publications. His patients can also benefit from his activities in both clinical research and foundational research in ophthalmology due to an expanded and improved range of treatment approaches on offer. As an ophthalmology specialist, Dr. Kernt has an exceptional reputation both in Germany and abroad.
The following will give readers a small insight into the technical articles that Prof. Dr. Kernt has published to date. We would also be delighted to discuss the benefits of opting for treatment with Prof. Dr. Kernt thanks to his ongoing research activities.
Impressions

---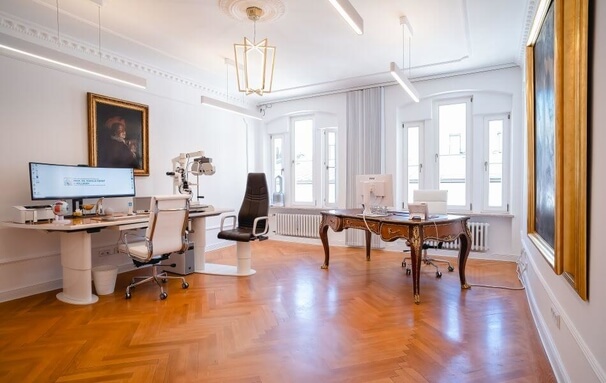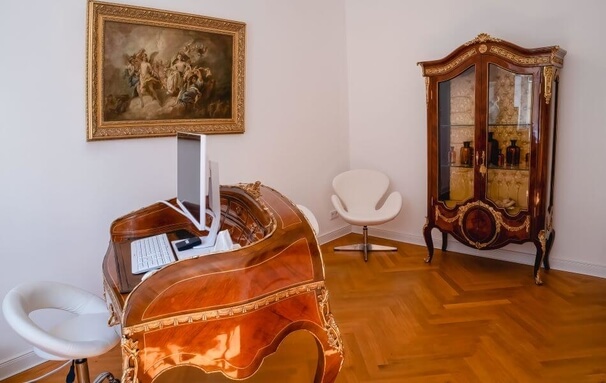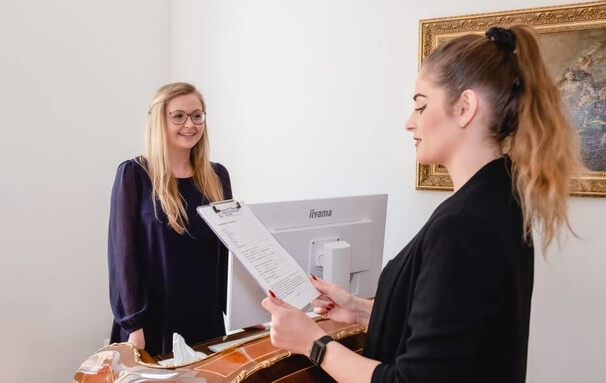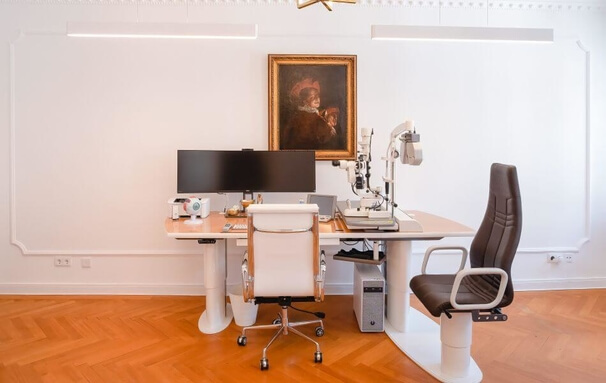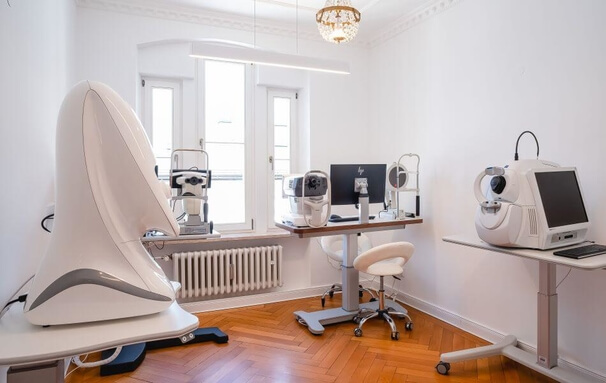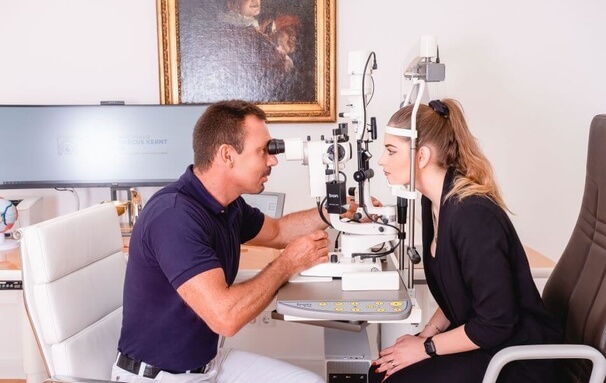 Contact us
Private Ophthalmology Practice
Prof. Marcus Kernt & colleagues
Maximilianstrasse 32
80539 Munich
Office hours
Consultation only by
arrangement